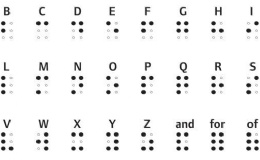 Wednesday 4th January is World Braille Day.
Humanware Braille Note Touch Workshop in Minerva Centre to Celebrate World Braille Day
Today, the Minerva Centre celebrated World Braille Day with a second workshop on how to optimise the use of their Braille Note Touches.
Their focus today was to explore and develop web browsing skills.
The students loved the workshop and said they couldn't wait for more.
The workshop will not only help them with their academic work but will also prepare them to become more independent braille users and will ready them for college and the world of work.