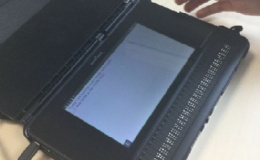 On Thursday, a group of teachers and staff received refresher training on use of the Braillenote Touch Plus, a device used by a number of Braille users at our school to download and submit assignments, send emails and access apps and the internet for research.
Training included the new updates, using the internet to prepare for the World of Work, using the EasyReader Plus app, using KeyMaths and the production graphs on the Braillenote.
Our thanks to Humanware trainer, Allison, who will be visiting the school at a later date to train another group of staff.