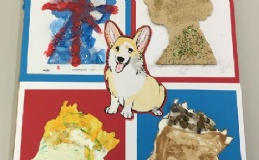 Artwork fit for a Queen
Two of our students from Minerva 1 delivered the Linden Lodge artwork to a celebration of artwork at Putney Library for the Queen`s Platinum Jubilee. The event was attended by the mayor and Fleur Anderson, the member of Parliament for Putney, Roehampton and Southfields. Everyone was thrilled by the sensory artwork and praised the children and our wonderful art teachers, Ralph Bye and Linda Marshall.
The artwork will be included in a book which will be presented to the Queen at Buckingham Palace.