Teaching and Learning at Linden Lodge
Pupil Voice:
Pupil Voice is at the heart of everything we do and the key to realising our school motto: enabling, nurturing, succeeding. It is instrumental to the way we shape the learning experiences, environment and well-being of every individual and the whole-school community.
Linden Lodge caters to the needs of such a diverse range of individuals and, as such, Pupil Voice can be different from person to person. It is our job to seek, listen to, and act upon each pupil's voice as it is. For some of our pupils, Pupil Voice requires the careful employment of advocacy from highly-skilled staff and their peers. In addition to knowing each of our pupils well, we ensure that our biases and perceptions of the world do not hinder Article 12 of the United Nations Convention on the Rights of the Child. It is fundamental to us that each pupil has the right to express their opinion and to be included in decisions that involve and affect them.​​
We promote Pupil Voice and making choices as an integral part of the school's activities ​including safeguarding, Educational, Health and Care Plan meetings, therapy, curriculum development, the effectiveness of the Quality of Education, school environment changes, staff recruitment, celebrations and awards, and self-evaluation. Each class at Linden Lodge elects representatives to attend School Council meetings each half-term. During the meetings, the representatives discuss, address and celebrate a range of issues, wishes, concerns and achievements.
Moreover, we know that every moment of each day provides us with an opportunity for Pupil Voice to be heard, seen and responded to. We put Pupil Voice first at Linden Lodge, enabling pupils themselves to inform all aspects of teaching and learning.
Planning and Personal Learning Goals Map:
Planning in each pathway ensures that the time all learners spend at school is as meaningful as possible and uses an integrated approach to education and therapy. This approach puts each learner's specific sensory profile at the centre of all teaching, therapy and learning. The Seven Characteristics of Teaching and Learning are embedded throughout each curriculum pathway to promote learners'' whole development through a broad and balanced curriculum offer.
The content of each learner's Education and Health Care Plan is co-constructed by all stakeholders important to the learner including Families, Teachers, Therapists, Residential Team, Health and Social Care professionals, and Vision, Hearing and Multi-Sensory Specialists. We use the content of each learner's EHCP to ensure they are being taught relevant content in the right way. Each learner's EHCP provides guidance about how best to approach and facilitate their teaching and learning in each curriculum, subject and lesson. In this way, the content of the EHCP is not the actual curriculum on offer to the learner but a vehicle for new learning to take place, enabling them to make progress within their Personalised Learning Goals.
We are aiming to equip our learners with the skills, knowledge and drive to participate and contribute within society, empowering them to live active and fulfilled lives. In recognition that the needs of each learner changes throughout their time at Linden Lodge, more weighting is given to Preparing for Adulthood (PFA) outcomes.
Medium term plans include a target and a detailed implementation strategy outlining how topics and themes will be used to support development of cultural capital, generalisation of understanding, and fluency of skills and knowledge. Sequential learning built upon prior learning and achievement is planned and facilitated to support learners to transfer skills and knowledge, and apply new learning and understanding in different settings. Each learner has a Personal Learning Goals Map that is updated termly to respond to their changing needs and aspirations.
The key aim of all pathways is to provide learners with regular opportunities to acquire and develop the wide range of skills and knowledge they need to become active participants in their class, school and wider communities. They also support the holistic development of the whole child and lay the foundations for life-long learning. Each pathway puts the learner at the centre. As a result, the learning domains, subjects, qualifications and accreditations that contribute to each learner's cultural capital differs across each pathway. This supports our learners to access the most challenging options possible and reduce the barriers presented by their Sensory Impairments and Special Educational Needs and Disabilities.
Learning Environments:
Each environment in the school is as least restrictive as possible to facilitate the development of communication, independence and autonomy for our learners. The environment for each of our learners includes their physical space, the adults and peers within it, the equipment, resources and technology they have access to alongside the approaches used. To ensure the most optimal learning environment for each individual, teaching and therapy teams consistently employ the 7 Characteristics of Teaching and Learning across all pathways and key stages.

Each physical space contains multi-sensory landmarks and/or tactile signage to support learners to develop their understanding of their school. Using a Total Communication approach, each environment in the school is a responsive environment whereby expressive and receptive communication is promoted and responded to by highly-skilled Curriculum, Therapy, Residential and Health teams.

Teams are proficient in using British Sign Language, Body Signing, Makaton, Touch Cues, Objects of Reference alongside other forms of communication. Having appropriate Alternative and Augmentative Communication in place for each learner is crucial for them being able to access their environment as independently as possible. Alongside this, specialist technology is used to support learners' access to learning in all environments.

Learners' individual curriculum pathway is facilitated within specialist class environment that accommodate their learning and sensory needs. Each environment is adaptable to meet the needs of each learner at any specific time in line with their Vision, Hearing or Multi-Sensory Impairment. The classrooms have flexible layouts to ensure learners have opportunities to engage in one-to-one, paired and group work throughout each day. Each environment includes space for learners to engage with and develop their self-regulation skills and benefits from the integrated and collaborative approach employed by therapists and curriculum teams.
Communication
Communication is integral to all that we do within the Linden Lodge Community. In order to relate to each other, function effectively, and create a positive learning culture we need to establish effective communication. Sensory impairments have particular implications for communication development. They create barriers between a child or young person and the physical and social world around them. At Linden Lodge School we acknowledge those difficulties and we make every effort possible to support pupils to learn all of the means by which they are able to make contact with one another: relate, interact, connect, exchange meanings, send messages to each other, be together, be social and achieve shared understandings. At Linden Lodge, we facilitate learning opportunities and experiences that are pertinent and appropriate.
The Linden Lodge community lives and breathes excellence in communication - in all ways, at all levels and all situations.
Our aims and commitments:
To assess each pupil and establish the most appropriate forms of communication.
To provide learning environments that promote the use of appropriate means of communication and that, therefore, support learning.
To give pupils a means of active participation in motivating social situations.
To ensure all pupils have access to their personalised and preferred mean of communication other than speech, including Voice Output Communication aids, signs, symbols or cues.
To ensure multi-agency collaboration in supporting pupils to develop their communication skills
To work closely with the pupil's parents, carers and families.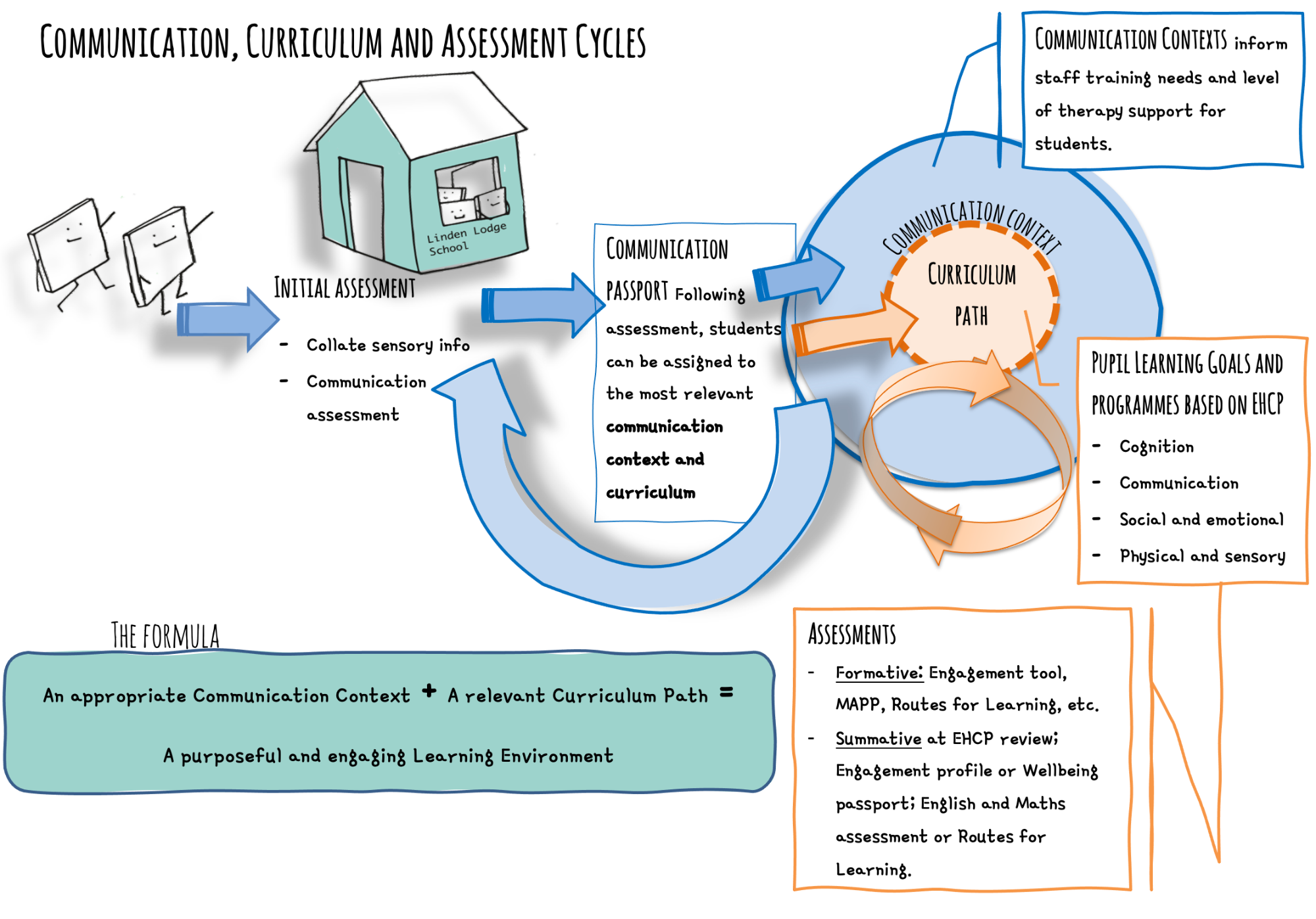 English
At Linden Lodge we intend to enter our pupils into the "World of Literacy" in its fullest sense. It is our aspiration that they will:
Enter into the process of literacy according to their abilities and needs
Have access to the tradition and wonder of what man has created in stories, song, poetry and plays
Be able to use their literacy to access the world around them
Have access to the literacy of today…with the technological advances of our age
We know that literacy and communication skills are essential for all our pupils. We recognise that the skills developed in Literacy and Communication promote learning across the curriculum. We aim for our pupils to communicate effectively both verbally and non-verbally with others in a range of social situations, appropriate to their levels and needs to be able to express themselves creatively and imaginatively to the best of their ability. Literacy at Linden Lodge embraces speaking and listening, reading and writing and each of our pupils develops their skills in these areas at their own pace with differentiated learning pathways and support that is carefully tailored to their needs and learning styles.
Reading
We aim to instil in our students a love of books and reading in all its forms. We want our students to engage with books according to their strengths and needs. Our students experience books through listening to stories being read, learning to take part and actively taking part in sensory stories or accessing books independently through braille and audio.
Within the Pre-Formal and MSI pathway, our pupils are encouraged to search for meaning by interpreting objects, photographs, signs, symbols and words. Reading at Linden Lodge at this stage also involves giving meaning to facial expressions and body language. We support the individual needs of our readers, which include their interests and emotions. We ensure that our learning environments are rich and motivating to capture the interests and passions of our readers.
Within the Semi-Formal pathway, reading involves phonemic awareness and phonic knowledge, word recognition and symbolic knowledge and grammatical awareness.
Within the Formal Pathway, students encounter a variety of different texts and have the opportunities to investigate different authors, poets and playwrights. They also focus on gaining the reading skills they will require to study and live independently.
Reading Schemes
We use the Little Wandle phonics scheme and due to the diverse nature of our students, we use a variety of resources and reading schemes to support Little Wandle. These include The Big Cat, Talisman, Totem, Oxford Reading Tree, and Jelly and Bean.
To support our pupils who use braille we use a range of braille reading schemes including Take Off, Abi books, Hands on, and Fingerprints.
Writing
All our pupils have access at different levels and through different experiences to the world of writing.
Pupils on the Pre-Formal Pathway experiment and develop mark-making and messy play in a variety of ways, such as using fingers, feet, hands and natural resources. Sequencing tactile calendars and using real objects, photographs, symbols, textured symbols and line drawings.
Those on the Semi-Formal Pathway begin the journey towards recording letters and words, early writing and braille.
Pupils on the Formal Pathway choose their preferred modes of writing and develop their skills in preparation for higher-level accreditation and the world of work. Many of our pupils choose braille as their writing mode. Others will record their work with technology such as CLICKER, PICTELLO or Scene and Heard.
Speaking and Listening
Speaking and listening skills are a priority for us as these skills are essential for the everyday life of our pupils, ensure their well-being and happiness and underpin their work and develop of other literacy skills. We embrace a transdisciplinary approach and work with the communication leads and our therapists to ensure that our speaking and listening activities are tailored to our pupils' needs and ensure the best possible communication with the right technological support.
Speaking and Listening is addressed in all literacy sessions and speaking and listening activities take place throughout the day in all sessions, including breaks and recreational times.
Phonics
In order to access the curriculum and develop future life skills, we recognise the importance of phonics, whether at an appreciation of environmental sound level, or advanced text analysis and comprehension tasks. We strive to ensure our phonics offer is accessible for our learners that it is meaningful to, through a personalised access approach. We provide a secure, stimulating and enriching environment where there is equal access to phonic knowledge and understanding. With this in mind, we continue to review how we teach phonics to our pupils. We use the activities from the Little Wandle teaching programme to support our planning and delivery of phonics for our pupils.
For more information, please refer to our Phonics Statement on the policy page.