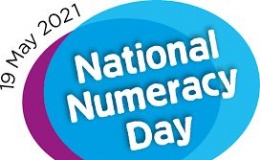 National Numeracy Day
19 May 2021 was National Numeracy Day!
Linden Lodge signed up for the Maths Champions Toolkit, which contained a wealth of creative ideas and fun resources.
Throughout the day there were live online events, too.
Pupils working on the Pre-formal and Semi formal curriculum were encouraged to explore Numeracy through dance, music and baking activities, while Formal curriculum pupils were encouraged to explore Numeracy-related careers.
In addition, Teachers and Staff were invited to spend 10 minutes putting their Numeracy skills to the test by taking part in the National Numeracy Challenge!
Minerva 2 solving a quiz to celebrate the National Numeracy Day on 19th May