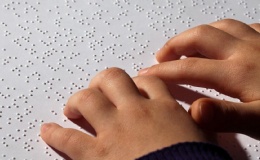 "The Braille learners have been continuing to work hard to develop, learn, improve and enhance their braille skills. They have learnt new skills in brailling and reading using braille technology to enhance their learning.
They give 100 percent effort in all lessons and are practising these skills during the week. This effort is demonstrated in the progress that their are making. They are consistently challenging themselves to learn new skills and increase their knowledge.
Everyone is developing their Literacy skills within their own braille journey.
We are braille champions. We love Braille!"
- Leonie​ Masterson, Qualified Teacher of the Vision Impaired