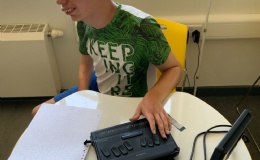 This year we launched our first Minerva Lit Fest. Despite and heat, it took place on Monday 18th In the morning Dan Simpson came into school to run poetry workshops with the Minerva students. At 2.00 pm families joined the Minerva students for a showcase of some of the work they have done this year with Poetry by Heart, Old Vic, in classes and in the workshops with Dan. The students recited works they had prepared for Poetry by Heart, poems they had written and the work they had produced with Dan. We then premiered a film that Polka Theatre had produced at the end of last year of the poetry the students had written themselves. The Minerva students dedicated their first Lit Fest to Debbie Rix as she is retiring this year and they wanted to show their gratitude to and affection for their headteacher.
Below you can read Dan's bio and a brief extract of the poem he worked on with the students. Then you can enjoy the amazing poetry that the students produced in the morning.
Dan Simpson
Dan Simpson is a writer, performer, producer, and educator. He makes highly engaging and contemporary work that is entertaining, intelligent, and thought-provoking. His subjects include science and technology; history and place; art and culture; people and poetry. He was Poet-in-Residence at Glastonbury Festival, Imperial College, St Albans Cathedral, and National Trust Stowe. His two collections of poetry are Applied Mathematics and Totally Cultured (Burning Eye Books). Dan has performed around the world including at Glastonbury Festival, Chicago's Uptown Poetry Slam, Sofar Sounds Auckland, and on the BBC. He creates innovative and engaging work using crowdsourced and roaming poetry for organisations such as the Royal Academy of Arts, National Museum of Scotland, and the European Commission.
PACKING A POEM
By Dan Simpson
It begins neatly:
words laid out carefully
similar items sitting in small piles
ready to be placed in an appropriate spot.
Make use of all available space:
tuck verbs into nouns
like squashing socks into shoes
economy – that's what we're after –
no waste.
Packing a Poem
By Ayyan
I am packing love away into a suitcase.
Love is as warm as a blanket.
Love is as sweet as roses.
Love feels like a wave of water crashing over you.
The red-hot feeling when someone you love comes near you,
Is as warm as a raging fire on a hot summer's day.
Put the hot redness at the bottom first, forget the creases for now.
Then pack the warm blanket around the sides.
Next gently lower the wave of water into the middle,
And pack the sweet roses around it.
The lid will probably not close,
But you can try sitting on it.
Pull the zips tight to stop the love escaping.
Packing a suitcase
By Aisha
I am packing excitement into a suitcase.
Feeling it jumping out of my skin.
I feel it tickle in my tummy.
I will pack my phone, books and iPad with it.
I will make sure to take my earpiece,
So, I can listen to my audio books.
I will fold up my cane carefully,
And push it into my hand luggage.
I will take my excitement all the way to Nigeria.
Love
By Luke
Love is in your heart.
Joyous and exciting.
If I could,
I would put the whole world,
Inside that love.
Nature with its animals.
My family, my friends,
There's room for everyone.
Once you've found love,
The more you share it,
The bigger you heart grows,
Till you're hugging the universe.
Happiness
By Jo
A smile goes into the suitcase like a bullet,
Smashing into it,
Crumpling the suitcase into an iPhone.
Happiness is an iPhone,
No! Lots of iPhones all piled up together,
Along with iPads
All the models at once.
I am the iPhone historian.
If you come to me,
I can fix them all.
Because I am the technological genius,
Reviewing all the tech,
To help blind people use it better.
Suitcase
By Felipe
I would pack happiness into my suitcase.
I would pack my family in softly.
Chuck in my bicycle,
And then one for each person.
On top I would put gravity.
But, I'd make sure the entrance stayed open,
So, everyone can choose a game.
I'd pack ping pong to play,
And a cinema for movies too.
Excitement
By Amy
I like football,
I like winning,
I like cricket,
I like to hear the ball,
Hit the bat.
It hit it and,
It makes me excited.
Harry Potter makes me excited.
He's my favourite.
Hyenas laugh.
They're my favourite.
I like eating lunch,
When I get hungry.
It's my favourite.
The Minerva students wrote made an anthology for Debbie as a goodbye gift. Minerva 2 wrote this poem as one of their contributions and wanted to share it on the website with the Lit Fest poetry.
Debbie's Magic Box
By Minerva 2
With love
We will never forget you.
In Debbie's magic box,
I will put in,
The sounds of happy children saying
How nice it was to work with you,
Singing like a choir,
Cheerfully and merrily.
I will put in the box…
The Minerva centre,
Full of pride and joy
From linden lodge,
Never mortal – immortal.
I will put in the box
Food tech brownies,
Delicious,
Made with love,
Taste so good, make you feel loved.
I will put into the box
A song by Minerva 2,
Made with international instruments,
Taking you to another country,
Feel excited and ecstatic.
I will put into box,
The line 1,
The Hounslow bus,
So you can come and visit,
And feel happy when you talk to us in the morning.
I will put into the box,
All the school's technology,
From the past and present,
So that you can remember,
Everything that happened here,
And everything you did.
I will put in the box,
A Harley Davidson,
So you can have nice bike rides,
Feel the wind in your hair,
And enjoy the Norfolk broads.